Manish Govin, MD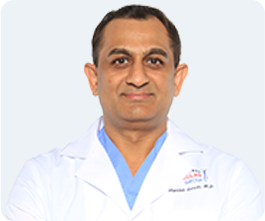 Vascular & Interventional Radiologist and Medical Director
Southeast Atlanta Vascular Care
Dr. Govin is a Board Certified Vascular & Interventional Radiologist serving the Atlanta area since 2003. He obtained his undergraduate degree at Emory University in Atlanta and then attended A.U.C./St.Bartholomew's & The Royal London School of Medicine.
After obtaining his MD degree in 1997, Dr. Govin completed an internship in General Surgery at the University of Pennsylvania in Philadelphia and residency in Diagnostic Radiology at the University of Illinois in Chicago. He finished his training in 2004 with a Vascular and Interventional Radiology fellowship at Emory University.
Prior to joining Southeast Atlanta Vascular Care, Dr. Govin served as the Chief of Interventional Radiology at South Fulton Medical Center. His areas of expertise include dialysis vascular access care, endovascular interventions, and minimally invasive image-guided procedures. Dr. Govin is a member of the Society of Interventional Radiology.
If you would like to schedule an appointment at Southeast Atlanta Vascular Care to have a consult with Manish Govin, MD or would like to have one of our highly trained care providers reach out to you, please click on a button below: