Shrenik Shah, MD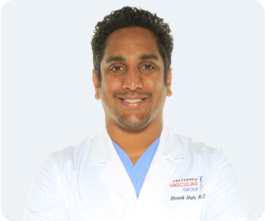 Vascular & Interventional Radiologist and Medical Director
Southwest Atlanta Vascular Care
Dr. Shah is a Vascular and Interventional Radiologist and the medical director of Preferred Vascular Group's Southwest center. He specializes in performing endovascular artery and vein procedures. His focus is on all aspects of dialysis access management, complex peripheral arterial disease, uterine fibroid embolization, pelvic congestion syndrome, vascular access, interventional oncology, and complex GI/GU interventions.
Dr. Shah holds an undergraduate degree from the University of Chicago in Biology and Environmental Science along with a master's degree from Boston University.
Dr. Shah is a fitness and musical enthusiast, who enjoys running, hiking, playing piano and guitar. He is most passionate about his role as the father of a 7-year-old. Dr. Shah is fluent in both English and Gujarati.
If you would like to schedule an appointment at Southwest Atlanta Vascular Care to have a consult with Shrenik Shah, MD or would like to have one of our highly trained care providers reach out to you, please click on a button below: