John T. Perry, MD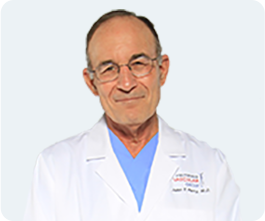 Chief Medical Officer and Medical Director
Northwest Atlanta Vascular Care
Dr. Perry is a Board-Certified Surgeon and is both the Chief Medical Officer of Preferred Vascular Group and the Medical Director of the company's Marietta location since 2012. He has been in practice in the greater Atlanta area for nearly 30 years.
Dr. Perry achieved Magna Cum Laude as a graduate from Furman University and graduated from the medical College of Georgia. He completed his internship, residency and vascular fellowship at the University of Mississippi. Dr. Perry has extensive experience in all areas of vascular medicine; however he is recognized for his expertise in both the surgical creation and the on-going care of the vascular access for kidney dialysis patients. He is a Diplomat of the American Board of Surgery, a Fellow of the American College of Surgeons, and a member of the Georgia Surgical Society.
Starting in late 2018, Dr. Perry became the first surgeon in Georgia to perform two new surgical procedures developed to create a hemodialysis fistula percutaneously. These new techniques allow patients to avoid significant surgery and the associated downtime.
If you would like to schedule an appointment at Northwest Atlanta Vascular Care to have a consult with John T. Perry, MD or would like to have one of our highly trained care providers reach out to you, please click on a button below: