Dialysis Access Options
Fistula Surgery and Percutaneous Fistula Creation
The arteriovenous or AV fistula involves a direct connection between an artery and a vein. The connection is made surgically underneath the skin and allows for adequate blood flow during your dialysis treatments. This increased blood flow leads to larger and stronger veins and better results from your dialysis treatment.
Pros: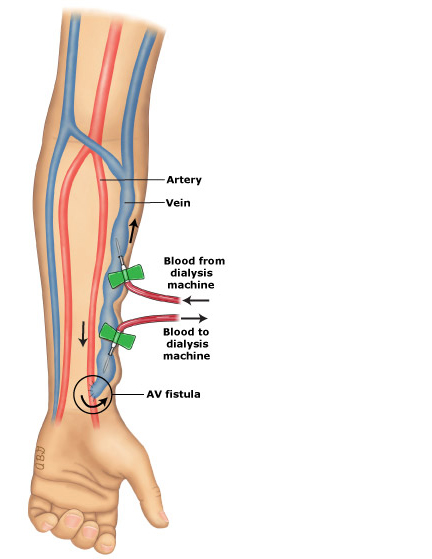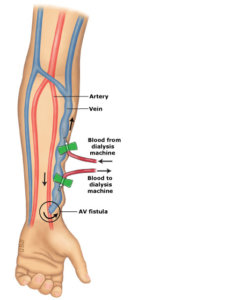 Permanent access
Best overall performance
Less chance of infection
Can last many years with proper care
Increased blood flow
Fewer access related problems
Cons:
May not be possible for all patients
Requires temporary access until fistula matures
Takes approx. 6-8 weeks to mature
May fail to mature
Graft
A graft is a direct connection of a synthetic tube from an artery to a vein. The tube acts like a natural vein allowing blood to flow through the access.
Pros: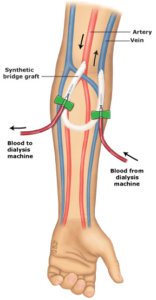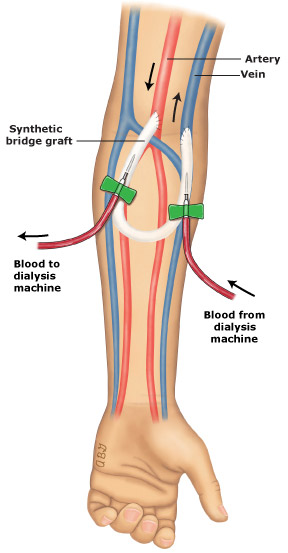 Permanent access
Durable synthetic tube can be safely accessed multiple times
Connection made surgically under skin can be used in approx. 2-4 weeks
Cons:
May not be possible for all patients
Increased potential for clotting
Increased potential for infection
Catheter Placement
A catheter is a tube inserted into a vein in the neck or chest directly into your heart and the extension or limbs hang outside your chest or neck. The insertion site is covered and must be kept sterile, clean and dry. Catheters are temporary for most dialysis patients.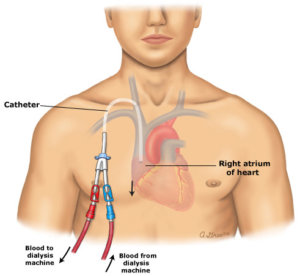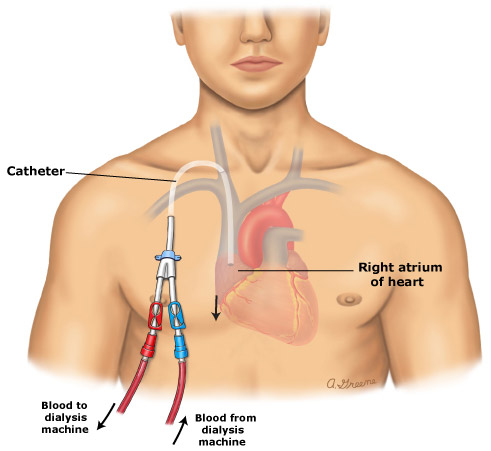 Pros:
Can be used immediately after placement
Cons:
Temporary option for most dialysis patients
No showers or swimming Higher rate of infection and failure
Prolonged use can lead to stenosis and/or blood vessel trauma
PVG Provides Solutions for Better Dialysis Care
Learn more about dialysis access education and management by clicking on the links below:
Dialysis Access Education
Dialysis Access Management
Vascular Access Management Program
If you would like to schedule an appointment at Preferred Vascular Group to have a consult with a Board-Certified physician or would like to have one of our highly trained care providers reach out to you, please click on a button below: