Jay Patel, MD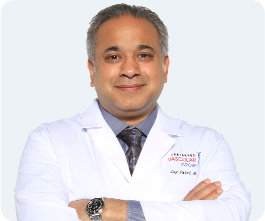 Vascular & Interventional Radiologist and Medical Director
Macon Vascular Care
Dr. Patel received his medical degree from Chicago Medical School, after which he served an internship in General Surgery at Good Samaritan Hospital in Cincinnati OH. He then completed his residency in Radiology at Rochester General Hospital in Rochester NY, where he served as Chief Resident.
Dr. Patel went on to complete his medical training with a fellowship in Vascular and InterventionalRadiology at Harvard Medical School/Brigham and Womens Hospital in Boston, MA. Upon completion of his fellowship, he returned to Northwest Indiana with Franciscan Alliance serving the needs of the community where he grew up. When the opportunity to practice in Macon, GA and serve a new community arose, Dr. Patel decided to make embrace a new challenge and move south.
Along with his wife and two children, Dr. Patel now calls Georgia home. He is Double-Board Certified by the American Board of Radiology for both diagnostic Radiology as well as vascular and interventional radiology. Dr. Patel's areas of special interest include Peripheral Artery Disease, Uterine Fibroid Embolization, Kyphoplasty, Dialysis, Venous Intervention, Pelvic Congestion Treatment, Male Varicocele Treatment and Interventional Oncology.
If you would like to schedule an appointment at Macon Vascular Care to have a consult with Jay Patel, MD or would like to have one of our highly trained care providers reach out to you, please click on a button below: